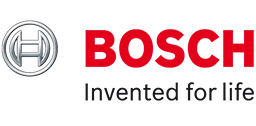 The Bosch Group is a leading global supplier of technology and services. Its roughly 370,000 associates generated sales of 70 billion euros (2015). Its operations are divided into four business sectors: Automotive Technology, Industrial Technology, Consumer Goods, and Energy and Building Technology. The Bosch Group comprises Robert Bosch GmbH and its more than 360 subsidiaries and regional companies in some 50 countries. If its sales and service partners are included, then Bosch is represented in roughly 150 countries. This worldwide development, manufacturing, and sales network is the foundation for further growth. In 2013, Bosch applied for some 5,000 patents worldwide.  The Bosch Group's products and services are designed to fascinate, and to improve the quality of life by providing solutions which are both innovative and beneficial. In this way, the company offers technology worldwide that is "Invented for life".
The new Strategic Programme Robotics and Autonomous System in the corporate sector Research and Advance Engineering is engaged with future robotics products developed under the above premise. One research focus lies on socially compliant and intelligent autonomous systems building on year-long in-house expertise in robotics, machine learning, and user technologies.
Key people
Kai Oliver Arras: PI
Timm Linder: Senior Researcher
Luigi Palmieri: Senior Researcher
Role in the project
Within ILIAD, Bosch will contribute to the human detection, tracking and analysis system and will collaborate with the University of Lincoln in the devolopment of the probabilistic qualitative representation for legible and socially normative joint human-robot motion planning. Bosch will also contribute to the motion planning research in ILIAD that takes qualitative constraints as input and develops methods to plan and execute quantitative human-aware vehicle motion.