Chiara Gabellieri,  Alessandro Palleschi, Manuel G Catalano, Manolo Garabini, Lucia Pallottino
Flexible Automated Depalletizing: an Unwrapping Robot to Remove Plastic from Palletized Goods. Proceedings of the 2nd Italian Conference on Robotics and Intelligent Machines, 2020.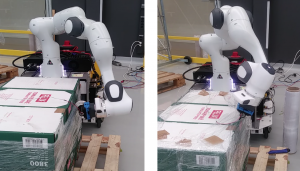 Abstract
Despite being a crucial step of the intralogistic flow, pallet unwrapping, i.e., the removal of the plastic film that protects the items stored on pallets, has not been satisfactorily automated yet. However, automated solutions may improve workplace safety and work efficiency. The automated solutions available on the market are usually bulky machines that lack flexibility. In this work, we describe an unwrapping robot mounted on a small-footprint mobile base, hence easily relocatable, that can unwrap pallets even when the knowledge of the profile is affected by some uncertainty.
@inproceedings

{

gabellieriflexible

,




title

=

{Flexible Automated Depalletizing: an Unwrapping Robot to Remove Plastic from Palletized Goods}

,




author

=

{Gabellieri, Chiara and Palleschi, Alessandro and Catalano, Manuel G and Garabini, Manolo and Pallottino, Lucia}

,




booktitle

 

=

    

"Proceedings of the 2nd Italian Conference on Robotics and Intelligent Machines"

,




year

 

=

 

{2020}




}